Now Serving Anchorage and Wasilla Locations
Learning Center Providing Math Tutors, Reading Tutors, and Home Study Help
Our Mission:
Turning Leaf Literacy Center exists to provide intensive, one-to-one clinical intervention in reading, math, and writing: and academic assistance in all subject matter.
We consistently and systematically equip all individuals with specific, effective, and research-based tools to empower them to overcome learning and processing challenges so that they may achieve academic excellence.
We partner with those who value education and we advocate for their loved ones. This provides relief from seemingly unsuccessful methods.
Turning Leaf team members are passionately committed to excellence as they nurture individual potential.
We create an atmosphere of loyalty and integrity by inspiring confidence in every interaction.
Turning Leaf strengthens the community by supporting families and developing confidence in students.
Our Methods:
At our learning center instruction is based on an individual's learning needs and embodies an interactive, balanced approach.  Through Socratic questioning, Turning Leaf Literacy Center teaches students to integrate sensory information to help them become self-correcting and independent in all learning skills. The math tutors and reading tutors in our learning center utilize Lindamood-Bell® concepts and techniques. The programs and course outlines listed below will be recommended according to each individual's learning deficit.
While each hour's activities will remain primarily the same,
the complexity of each hour's activities will gradually increase in accordance with the individual's success at each level.

Does your child need help with math? Our caring and dedicated math tutors create a fun and personalized environment for students to improve in all math skills including math facts, solving problems, and overall math fluency. Math tutors will help with:

Addition and Subtraction
Multiplication
Division
Fractions
Decimals
Problem Solving
Geometry
Measurement
Money and Time Problems
Pre-Algebra
And More!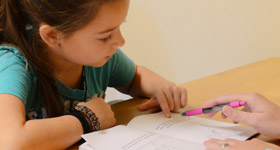 Reading skills can have a dramatic effect on quality of life and employment. We believe every person can be fluent in both reading skills and comprehension. Our reading tutors can discover your unique reading needs and tailor a fun and creative approach to increase your skills in reading. Reading tutors will help with:
Phonemic Awareness
Phonics
Syllabication
Reading Fluency
Word Analysis
Vocabulary
Reading Comprehension
Confidence Reading Out Loud
And More!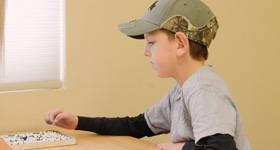 In our learning center students will build study skills to handle homework and classroom study with confidence and proficiency. Our learning center tutors teach fun and creative study skills to help students of any age. Learning in our center will help students with:
Time Management
Organizational Skills
Listening And Comprehension
Note Taking Methods
Managing Information
Study Habits and Skills
Test Taking Methods
Habits To Manage Stress
Study And Test Related Anxiety
And More!
Our Comprehensive Evaluation Process Includes:
• Gray Oral Reading Tests (GORT-5)
• Peabody Picture Vocabulary Test-5 (PPVT-5)
• Expressive Vocabulary Test -3 (EVT-3)
• Test of Word Reading Efficiency (TOWRE-2)
• Symbol Imagery Test ®
• Phonological Awareness Test (PAT-2)
• Comprehensive Test of Phonological Processing (CTOPP-2)
• Lindamood Auditory Conceptualization Test (LAC) ®
• Test of Mathematical Abilities (TOMA-3)
• Comprehensive Mathematical Abilities Test (CMAT)

Using the evaluation results we are able to create and customize an individual plan for each student. This plan is then implemented at a rapid pace incorporating phonological awareness, decoding skills, and symbol imagery in order to reach the ultimate goal of reading independently with accuracy and fluency.
What Our Customers Are Saying
"My daughter was having trouble in school… She received the best help with her reading at Turning Leaf and is now doing great. Keep up the good work!"

- Happy Mom
"My daughter, who I am home-schooling, was not progressing in her reading. I knew that she needed intensive help and was given the name of Turning Leaf as an option…. My daughter improved her reading ability tremendously after her tutoring with Turning Leaf. I also felt as though I had a new set of tools to use in continuing her progress at home."

- Pleased Parent
Recent Newsletters
Call For An Appointment Today