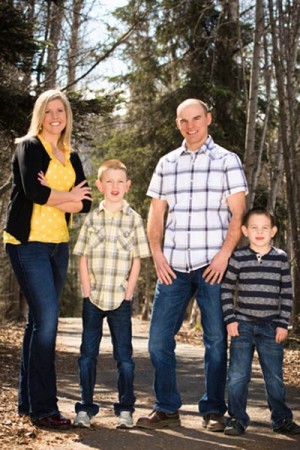 Kimberly McCotter
Owner, Program Director
Owner and private reading instructor Kimberly McCotter has been working with individuals of all ages struggling with dyslexia and other learning disabilities for 12 years. She has a passion for education and believes that every person has the ability to overcome his or her academic struggles. She opened Turning Leaf Literacy Center in July 2005 and has been serving on the Alaska Branch of the International Dyslexia Association since 2008.
Kimberly has a fantastic husband and two wonderful boys who all play an important role at Turning Leaf. Her hobbies (other than work) include baking, exercise, and spending time with her family. Her passion for helping others find success is the foundation for Turning Leaf Literacy Center.
Email Kimberly
(907) 373- 2888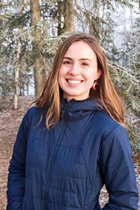 Liz Miller
Instructor
Liz was born and raised in Iowa and moved to Alaska with her family in 2013. She attends the University of Alaska Anchorage, where she pursues a BS in Health Sciences with a minor in Speech and Language Pathology. Liz loves working with children and enjoys teaching them skills to succeed. Her hope is that with these new skills, children will not only have the confidence to read, but also to enjoy it. When not studying or teaching, Liz loves to spend time with her family and friends exploring the outdoors. You can find her out camping, hiking, or curled up with a good book.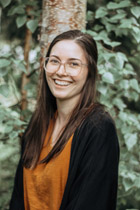 Denisha Christiansen
Reading and Math 1st grade
Instructor
Denisha was born and raised in Alaska. She has been a key member and trainer at Turning Leaf for one year. In her dynamic experiences as a swim instructor and childcare provider, she came to the realization that the important training and connection with students allowed her to make a huge impact on their lives. In her spare time, she loves taking walks and bike rides with her loveable dogs; she also enjoys the side-work of being a photographer.

Kaitlynn Miller
Excellence in Writing Level A (3rd -5th Grade), Reading and Math 3rd grade
Instructor and Office Administrator
Kaitlynn was born in Texas but has lived all over the world. She moved to Alaska in 2013, and now considers it her home. She has known from a very young age that she wanted to be a teacher. She recently graduated with her Bachelor of Arts in Elementary Education from UAS. Kaitlynn has a passion for the families and the many students at Turning Leaf. She has been supporting Turning Leaf families, staff development, and equipping students for academic success for over 3 years! When she is not diligently working, she enjoys reading, watching movies, and spending time with her family!

Elizabeth France
Instructor
Elizabeth was born in Nevada but raised in Alaska. She is a part-time student at the University of Alaska – Anchorage. Since starting her work at Turning Leaf Literacy Center, Elizabeth has developed a new found passion for speech and language development.
She loves working with children and watching them master new concepts. When she is not studying or working Elizabeth enjoys: reading fantasy novels, painting, and hanging out with her two rambunctious Pomeranians.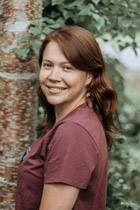 Julia Stinchcomb
Excellence in Writing Level B (6th – 8th grade)
Instructor
Julia has been living in Alaska for almost two years with her husband Cody. Julie earned her bachelor's degree in Linguistics from the University of New Mexico with a minor in History and Spanish. While in college, she decided that helping children read was the career of her dreams! When she is not working hard at Turning Leaf, her favorite things to do are garden, paint, and sing.
Amanda was born and raised in Alaska. She graduated from the University of Oregon with a BS in Psychology and Communication Disorders and Sciences. She is continuing her education with the University of Oregon by pursuing her Master of Science to become a Speech and Language
Pathologist. Amanda is passionate about providing children with the tools to achieve success in their educational journeys.

Madison Drawdy
Instructor
Madison has lived in Alaska her whole life. She moved from Seward to Palmer when she was little and has lived in Palmer ever since. She is currently going to UAA to get her associates of arts degree and then will be going to Utah State University to get a bachelor's degree in music therapy. She loves working with kids and helping them accomplish their goals and reach their potential. In her free time she enjoys four-wheeling, reading novels, and watching movies. She also enjoys spending time with her friends, family, and her wonderful cat Lily.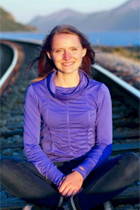 Claire Mahoney
Instructor
Claire was born and in Eagle River, Alaska. She is currently studying Neuroscience/Behavior and Music Performance at the University of Notre Dame in South Bend, Indiana. Claire is passionate about working with kids, whether in a teaching role or in a clinical setting. She is also passionate about the innerworkings of the brain and hopes to attend medical school after she earns her bachelor's degree. When she is not practicing piano or studying, Claire loves to explore the outdoors of Alaska, travel to new places, bake, spend time with friends and family!